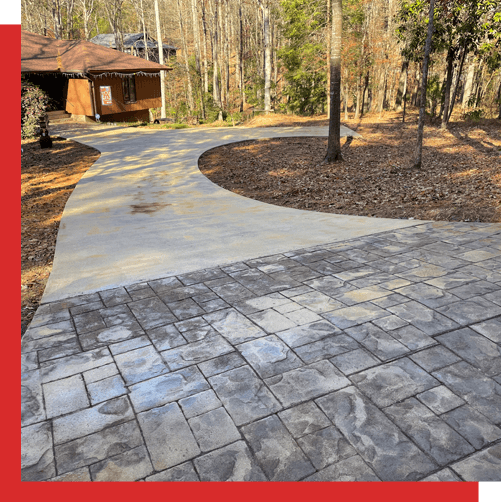 Add Value and Beauty to Your Home with Stamped Concrete in Auburn, AL
---
If you're looking for a way to enhance the beauty of your porch, patio, pool, driveway, or walkway, then stamped concrete might be the choice for you.
Stamped concrete uses rubber stamp molds to imprint the concrete to resemble natural brick, slate, cobblestone, tile, wood, and more. Create a glossy texture or keep it rough like sandstone and brick; you can even pour it over existing concrete or stone if your vision requires. This hardscape technique is designed to create the perception of luxury without having to break the bank. Regardless of the option you choose, the stamped concrete is made to last for decades, even under extreme weather conditions.
---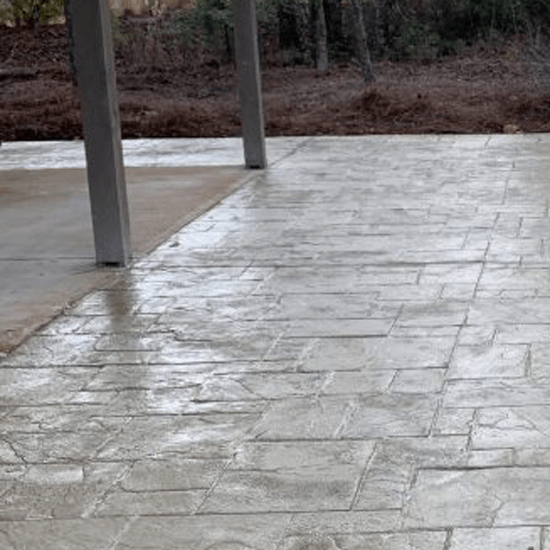 Benefits of Stamped Concrete
---
Increased Property Resale Value
By investing in your home's aesthetic, the value will increase over time. A stamped concrete driveway or patio is a great way to make your home more enjoyable while you're living there, and more valuable when it's time to sell.
Lower Maintenance Costs Than Other Decorative Surfaces
Much like traditional concrete, the maintenance required on stamped concrete is quite minimal. Once installed, the concrete should last for well over a decade. The only job you'll have is applying a routine sealer every 12-24 months.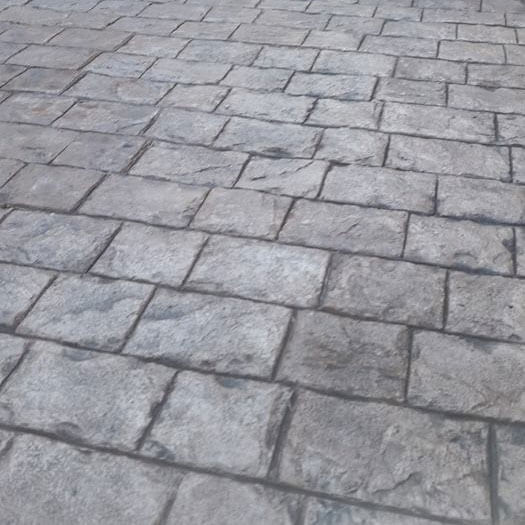 More Affordable Than Other Decorative Surfaces
When compared to brick pavers or natural stone to enhance the aesthetics of your home's exterior, stamped concrete is much more affordable. Not to mention the longevity.
Endless Possibilities
We offer a variety of options for color and texture options. We mix the color directly into the concrete, allowing for a true hue each time. Our colors range from traditional grays/browns, to bold colors such as red, blue, and purple.
Incredible Durability
Concrete is a material designed and coveted for its strength. Stamped concrete is a combination of strength, longevity, and affordability while remaining breathtakingly beautiful.
---
Cardinal Concrete Options
Bring a unique and one-of-a-kind feeling to your home with our various stamped concrete patterns. From brick and wood to cobblestone and ashlar slate, we have endless options for you to choose from, including:
Roman Cobblestone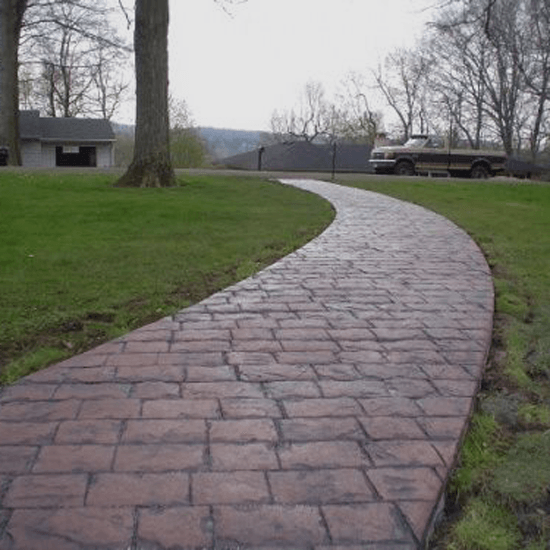 If you're looking for a traditional cobblestone appearance to add to your space, look no further than Roman Cobblestone. This pattern is perfect for walkways and driveways alike, as it provides old-world charm and character.
Suggested Color: Greystone or Pewter.
Basketweave Brick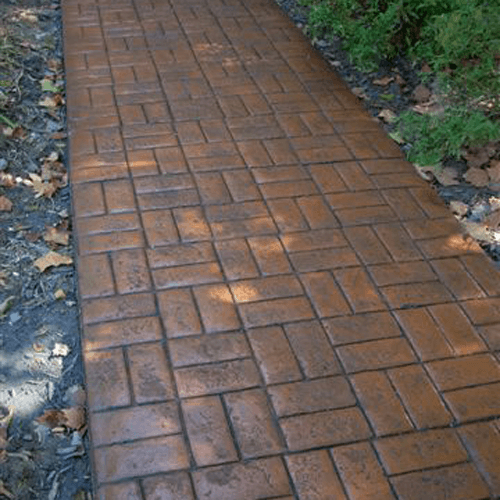 Particularly common on walkways and borders, this Basketweave Brick pattern is a great way to add texture to your space. With the perfect combination of symmetry, continuity and distinction, this pattern is great for both a traditional or modern aesthetic. Suggested Color: Terra Cotta.
Imperial Ashlar Slate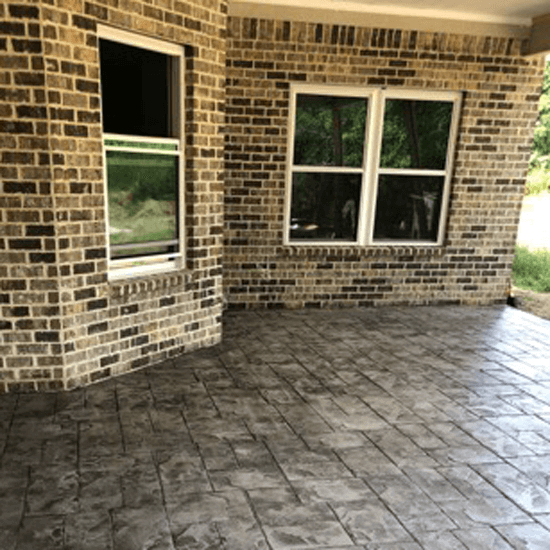 By far our most requested and installed pattern is this beautiful Imperial Ashlar Slate. An evolution of a traditional ashlar slate pattern with an emphasis on bigger, bolder shapes, this pattern is great for its incredible combination simple shapes in a complex layout. This makes it a great compliment to brick, stone or traditional siding, and offers an incredible range of color choices. Suggested Color: Greystone, Walnut, or Sandstone.
Auburn Flagstone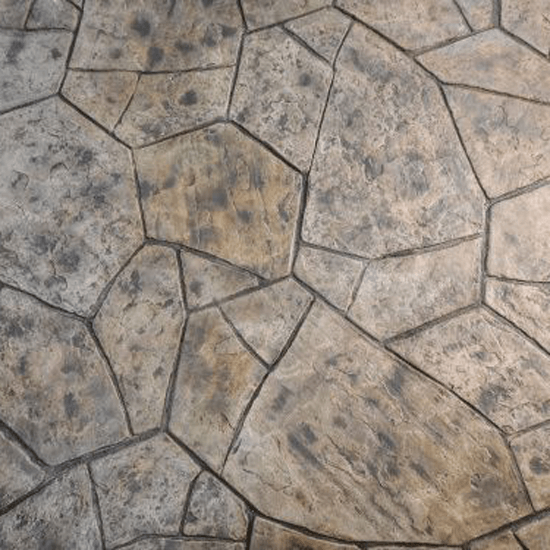 An incredibly intricate and detailed pattern, the Auburn Flagstone option will provide your space with a truly unique look. The random layout of the stones will add an immense amount of boldness and complexity to accent your space. This pattern is typically a great combination with the symmetry of brick houses. Suggested Colors: Charcoal, Limestone or Khaki.
Weathered Wood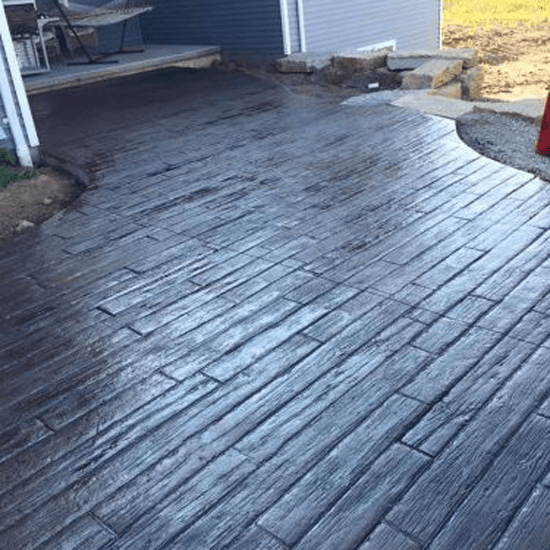 If you're looking for the aesthetic of traditional wood plank with the longevity of concrete, our Weathered Wood pattern is perfect for you. This pattern mimics the layout and details of traditional wood, but offers a wider color range than can be matched by real wood planks. Suggested Color: Walnut, Cocoa, or for a lighter wood appearance, try Mohave Sun.